Hair transplant is a popular hair restoration method that involves transplanting hair follicles from the donor area to the recipient area. There are several reasons why people choose hair transplant over other hair restoration methods:
Natural-looking results: A hair transplant provides natural-looking results that are virtually indistinguishable from natural hair. This is because the transplanted hair follicles are taken from the patient's own scalp, which ensures that the hair matches the patient's natural hair color, texture, and growth pattern.
Permanent solution: Unlike other hair restoration methods, such as hair systems or wigs, hair transplant is a permanent solution. Once the transplanted hair follicles have successfully taken root, they will continue to grow and produce hair for the rest of the patient's life.
Minimal downtime: A hair transplant is a minimally invasive procedure that requires only local anesthesia. Most patients are able to resume their normal activities within a few days of the procedure.
Cost-effective: While hair transplant can be expensive upfront, it is a cost-effective solution in the long run. Other hair restoration methods, such as hair systems or wigs, require ongoing maintenance and replacement costs.
Overall, a hair transplant is a popular choice for people seeking a natural-looking, permanent, and cost-effective solution to hair loss. Hair Transplants Actually Look Good Now—Here's Why (GQ Magazine)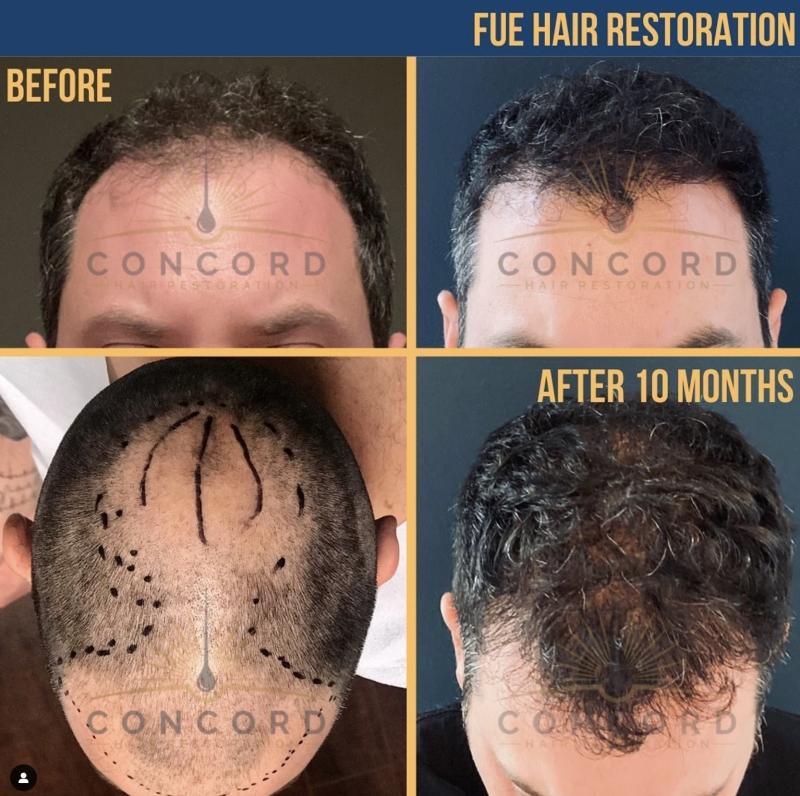 Want to restore your hair and confidence?
Concord Hair Restoration understands how difficult hair loss can be. We believe that no one should suffer from the effects of thinning or balding hair. That's why we offer a variety of hair transplant procedures that are tailored to meet individual needs and goals. Our team is comprised of highly-experienced medical professionals who will work with you every step of the way.
Imagine being able to look in the mirror and feel more confident about how you look, knowing that you have regained your full head of hair! With our help, it's possible for anyone with thinning or balding issues to get back their beautiful locks – giving them the freedom to enjoy life again without worrying about their appearance.
Don't wait – contact us today for a free consultation! Your first step towards regaining your self-confidence starts here!

Schedule a consultation today at either (619) 905-4247 – San Diego or (818) 800-2002 – Los Angeles. Take the first step towards obtaining the dream hair that makes YOU feel confident!