T​he FUE Hair Transplant procedure consists of 2 parts:
1. Extraction​ – Removing the follicles from the donor area one by one.
2. Implantation ​- Inserting the follicles at the balding area one by one.
Local anaesthetics are applied during extraction and implantation, thus the actual hair transplant procedure is pain-free.
The individual follicles are extracted from the lower- and middle-portion of the back of the head, because that area is largely immune to DiHydroTestosterone (DHT), which is the 'killer hair' hormone. If needed, follicles are also extracted from the sides of the head.
The duration of a hair transplant procedure depends on how many follicles we need to individually implant, the easiness of the extraction and the size of the area we need to cover.
Because the follicles are extracted one by one, an FUE extraction method is a fairly long procedure. Depending on how many grafts you require to attain the desired look, the overall duration of the hair transplant procedure can take up to 8 hours.
Although the hair transplant procedure is long, it does not mean it will be boring. You can watch a movie, use your smartphone to stay in touch with friends or play games, listen to music, sleep or enjoy a conversation with your surgeon and his team. And to ensure your comfort, there are regular bathroom, food and drinks breaks.
The individual extraction method guarantees you won't be left with linear scars or stitches. The donor area usually heals within 2-4 days after your procedure. After a period of time you will be enjoying a lifetime of amazing hair that will impress your colleagues, family members and most importantly, you.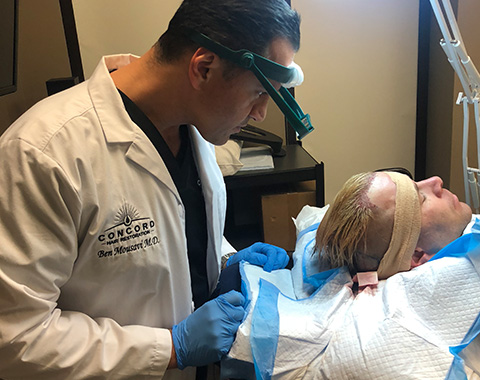 How long will the FUE procedure take?
The duration of an FUE procedure depends on how many follicles we need to individually implant, the easiness and ease in extraction as well as size coverage area needed.
Because these hairs are extracted one by one it can take up 8 hours or so for this method depending on your needs!
Your comfort is our priority
You can watch movies, chat with friends online or play games during your FUE procedure.
You'll barely even notice how long it takes because we have made sure everything is perfect here at Concord Hair Florida – from our excellent staff who are always available if you need something anytime, fully stocked snacks available, and of course there are regular bathroom breaks.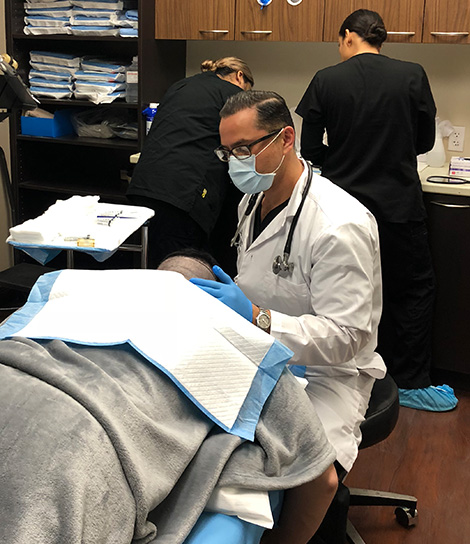 Contact Us Today to Schedule Your Consultation