Testimonials
Real 5-Star reviews from Google My Business and Yelp
I trusted the staff with my procedure completely and had no real problem. A little painful towards the end but there's only so much you can do. I'm thankful for the confidence they gave back to a young man!
– Walker
I saw 3 other physicians in the past 3 years. Only Dr. Mousavi solved my alopecia! The prp really worked! Thank you Concord!
– Valarie
Amazing place and clinicians, they even took my blood work to make sure there was no underlying issues. I had the best experience.
Would definitely recommend.
– Donovan
Concord physicians and staff and were amazing. Their attention to detail and attentive before and after the procedure. The healing process was a breeze and there is no visible scarring.
– Ray
Words nor STARS can express how truly Thankful I am for Dr. Mousavi and his team. They are the epitome of experience, professionalism, and caring!!! Thank you all SO much. Wish I could give 1 million stars.
– Terrance
Dr. Is the best, he not only cares about hair restoration but also the health well being of the patient. He's the only Dr I know of that cares of his patients that way. I really recommend him
– Sonia
Recently I saw that I was losing a bunch of hair so I decided to come to this place and I think it was one of the best decisions I've done. I can already tell the difference between my hair and overall this is a great place to get your hair restored.
– Niagara
Dr. Mousavi showed great care and consideration in providing very important and helpful advice. He took his time to explain the dangers of taking prednisone for a diabetic and his explanation made sense and was delivered in a patient and empathetic manner.
– Tsoghig
Hi I have been to concord many times and it's a great experience every time, they are so helpful with all the information given to me and Dr. Mousavi is patient and very informative with all the procedures I would recommend concord hair restoration to everyone! Thank you Concord hair restoration!
– Shawn
I saw Dr. Mousavi when a bald spot appeared in my beard and gave me some concern. Dr. Mousavi walked me through all the potential causes and ruled them out one at a time until he had it figured out. He then recommended some changes and supplementation based on my current diet and lifestyle, if that didn't work he said we could take a different approach such as a steroid injection. Fast forward 2 months and the bald spot has disappeared and completely regrown back to normal. No injection needed! Great to work with a doctor that explains everything and finds out all of the information before making recommendations. Thanks Doc!
– Ashwani
What a knowledgeable doctor! Dr. Mousavi's office performs a number of procedures. My wife went in for PRP. She raved about how effective the procedure was. We noticed that the doctors office had new machines and not just some second hand purchased old machines that are less efficient. Concorde is a 1 stop shop and I highly recommend them.
– Kam
A close friend had hair restoration & was worried about having it done. Dr Ben Mousavi completely reassured him, explained everything very well, and it was a breeze! I can't believe how easy the recovery was. The outcome was amazing! My friend has more confidence now & acts like a teenager.
– Barbara
I was initially scared of having the procedure. Dr. Mousavi was present at my procedure. He explained to me the steps. He decreased my anxiety. I am very happy with the results. His office was easy to work with. I would recommend .
– PC
Dr. Mousavi is an expert that you can trust with Hair Restoration. As one of the world's leading hair loss experts and a "real licensed" medical practitioner he knows the condition inside and out and has dedicated his career to helping people suffering from hair loss, including me.
In addition to seeing patients in San Diego County he also travels to Los Angeles to meet the needs of patients. I call that "Going the Extra Mile" He partners with an office administrative person named Steve to make sure they provide the best possible experience and education for men dealing with male pattern baldness—from the initial doctor consultation, to the articles you're reading, to making sure I follow through with my program.
– David
I've had a receding hairline for the last few years and I never really took action until I couldn't wear the same hair styles I did in my early twenties. I couldn't do the combover anymore or even a buzz cut because the recession was so obvious and it just gradually got worse each year.
It got to the point where I no longer had confidence in taking photos and although I've reached a very high level of success in my career, mentally and internally I was struggling. I didn't want to spend the rest of my life worrying about my hair and my appearance. It was really messing with my mind and making me depressed and I knew I had to take action.
On a Sunday I met with Dr. Mousavi for a consultation. He answered every single question I had and he put me at tremendous ease. He told me exactly how the process would be from start to finish so I knew what to expect as far as procedure day and what would take place the days, weeks, and months after.
3 days after my consultation I did the Neograft procedure. I was incredibly nervous that day but the entire staff was very friendly and made the entire day one of the best days of my life. It was the day I got my confidence, swagger, and zest for life back. The procedure was effortless and I left their office extremely happy.
What makes Dr Ben & Concord Hair Restoration even more outstanding is their post operation follow up and care. They don't just take care of you on the procedure day, but their follow up to make sure I was following all the post op instructions was amazing and their level of professionalism and service blew me away.
I cannot wait to take new photos and rock my new hair as I go about my day to day routine. I couldn't be happier and if you're reading this wondering if you should pull the trigger on changing your life, you should have no hesitation and I can confidently say you will not regret it. Thank you Dr. Mousavi and Team for your phenomenal work!
Dr. Ben and his staff are amazing. I am very fortunate to have a full head of hair on my head however, I have always wanted a full beard. Well Dr. Ben's team have delivered and have transplanted 4500 grafts to my baby face. I will look like a lumber jack in no time. I enjoyed my two sessions and was made comfortable and even fed a great lunch. I couldn't recommend Concord enough!
– Amare
I had hair loss and inquired about hair restoration with Concord. I went in for a consultation and was so comfortable with the doctor and his team. I did my FUE procedure and love the results. If you have hair loss and want hair restoration, call Concord.
– Dean
Dr. Ben Mousavi was great. I went in for a consultation and he was very thorough and informative while explaining potential medications, side effects, and a graft estimate.
DR. Mousavi and his team were awesome! I felt involved from start to finish. Concord Hair was able to work with my budget, they worked directly with me and involved me in building the hair line for my desired results , and took good care of me afterwards! I would highly recommend Concord Hair and Dr. Mousavi
First of all I want to thank Doctor Ben Mousavi & his entire staff for such a wonderful experience. From the moment I stepped into their office, they were so attentive. Especially Steve. I went in for a consultation not knowing what to expect , pretty nervous to be honest. They answered any question I asked and really informed me about the situation that was occurring. Assured me it wasn't the end of the world for me. Obviously I was losing alot of hair. Even after the visit I left knowing exactly what I needed to know about resolving my hair loss. I decided and went through with the FUE hair transplant. The day of the procedure I showed up early, I was greeted by everyone. Again I was super nervous but Steve assured me everything would turn out perfect. He wasn't lying. The surgeons were some of the friendliest people. Very professional never the less, from the moment I sat down on the procedure chair I knew I was in good hands! Several hours later I was done ready to go home, must I say the procedure was not painful at all, just the initial numbing part but even then it was very minimal . I'm a few days post hair transplant and already feel back to normal. Now it's just about waiting. As soon as I looked in the mirror I knew it was a success. If you're thinking about a hair procedure Dr. Ben Mousavi and his staff are definitely the best choice. I want to thank him and his staff again ! I can't wait to see the final results! I would highly recommend them. You won't be disappointed. Thank you again.
-Roger
Reviews are interesting opinions, I am a no nonsense type of person. So… This group is a true team of professionals that function as a unit to get you the best results possible. They work together and are a true joy to experience their skills. I have had procedures at other well know places, I have nothing bad to say about them, however, this team is different…. Speak with them and you will immediately know your in good hands, and more importantly they care about you and your results.
– John
BEST DECISION I'VE EVER MADE… I struggled with the decision to get a hair transplant ever since a full year of stress caused a rapid hair loss period. For years it bothered me and effected overall quality of life. After consulting with multiple clinics I decided that Dr Mousavi was the right guy for the job. Leading up to the procedure I had many questions and concerns as I have never done anything like this before. Steve, Dr Mousavi's assistant and even the doctor himself made themselves readily available via text or call day and night and even on the weekends to answer any questions and alleviate any of my concerns. Aside from outstanding customer service, what impressed me as well was not only Dr Mousavi's knowledge of the procedure but his knowledge of the science behind it which he explained to me in detail. The day of the procedure went off without a hitch, him and his RN performed the procedure to perfection, provided me lunch and even had a TV with multiple streaming options in the room to keep me entertained. The week after the procedure was unlike anything I had ever experienced, but once again Dr Mousavi and Steve answered every text and call I made to them, day, night and even on the weekends. In my career I work with hundreds of doctors all across the country and I have never encountered a practice with such professionalism and true care for their patients. As impressive as the quality of care I received, the fact that they have gone way above and beyond my expectations for customer service is what impresses me the most! If your'e even mildly considering it, do not go anywhere but Concord Hair Restoration. IF I COULD GIVE THEM 6 STARS I WOULD! I will post a second review further down the line when I begin to see the fruits of their labor.
Dr. Mousavi is a special kind of doctor, he cares for his patients like no other. He uses state of the art techniques, and state of the art technology to get you the best result. I am more than happy to recommend him to all. My hair restoration looks perfect, could not be more satisfied. Thank you doctor!
Dr. Mousavi was very thorough and detailed when recommending how I restore my thinning hair. I had the recommended hair transplant and the procedure was done beautifully. The only slight pain was the numbing at the start and that was it. I am very exited to see the results in the coming months and I highly recommend Dr. Mousavi and Concord Hair Restoration to be your hair doctor.
– Nick
I went to Concord for a procedure and was thoroughly impressed with the quality of the service. Dr. Ben and Steve were great to work with and I highly recommend them for any of your medical needs, they were the best.
They also had an awesome office and friendly staff that really took care of me. I will definitely be going back for any needs I have in the future. Thanks Concord!
– Evan
Dr. Mousavi and his staff are a great team. You are welcomed and encouraged to ask as many questions about any procedure or hair loss. I had many and after fully informed I made the decision to do a procedure. They were very helpful and kept me informed of everything they were doing throughout. I highly recommend making an appointment for a consultation if you are at least considering. Nothing to lose (except more hair).
– Anthony
Was having significant hairloss over the past 2 years finally decided to go with Concord for a hairtransplant. Love the way they set up my hairline to be as natural as possible, definitely excited for the upcoming months to see results. Dr. Mousavi and his staff are very caring and friendly they go out of there way to make sure u are comfortable, gotta say I had a great experience being one of his patients. Absolutely recommended
– Isaisas
All I can is THANK YOU to Dr. Mousavi and team. I was really nervous about this procedure and had been thinking about it for so long. He went above and beyond to make sure I was comfortable and took the time explain the process with me. I really felt he cared, not only about my hair, but making sure I felt truly informed. I will say for anyone considering this, make sure you're patient with your hair bc this is not an overnight result. Now at 6months my hair hasn't looked this good in years and my only regret is not doing this earlier.
– Expert Remume SD
Doctor Ben Mousavi is the greatest!!! There is no one better for hair restoration. I recently had a hair transplant and he took care of me so closely every step of the way. From booking the procedure all the way through recovery, he constantly checked in on me and monitored my situation. I couldn't be happier about my results. If you need someone to help with a transplant and/or any other hair restoration method, Doctor Ben Mousavi is your guy!!!!!
-Zacharey
If I can give 10 stars I will . Hands down to the most sweetest Dr. Mousavi , Not only he is taking his time to explain in details what's best solution for my hair restoration but he cares so much about the patient to make him leaving the clinic feeling very Satisfied and doing his best to work with any patient according to his budget . Im very thankful that I got to see him today and I can't wait to do the operation soon
– Rami
My first impression when walking in to sit down with Steven and Dr. Mousavi was beyond my expectation. The office was very well put together and welcoming and in a great location. Right away when I walked in, I felt very confident I had chosen the right place to do my procedure. They were excited to work with me and help make my hairline the way I wanted it. The procedure took about 5 hours and the ladies who did my procedure were very skilled and did an excellent job at an excellent pace and it came out great! Im looking forward to seeing the final results in the. months to come and will be sharing before and after photos.
About three weeks after my procedure with amazing healing results thus far, I came in to get PRP injections and Dr. Mousavi did an excellent job with injecting the plasma into my scalp. Was a quick and not to painful procedure and I plan to do two more PRP sessions this year to maximize my results.
Overall I've been very pleased with the Dr. and Staff and would highly recommend Concord to anyone with hair loss issues and/or medical advice all across the board.
Dr. Mousavi, Steve and the Concord team are the absolute best! Trust me when I say that when it comes to hair, they are the true experts. I've met with so many doctors and the level of care they provide for patients also set them apart and they really go above and beyond in delivering the best natural results. Schedule your consultation and you'll see what I'm talking about! [;
Excellent medical services and care. I went for FUE Neograft information and the whole staff was extremely friendly and helpful. They actually recommended I did not need a procedure and just improve some things regarding my nutrition and to come back for a follow up. It shows that they actually care and aren't just trying to close a deal.
– Michael
I received 5 star service from Concord and especially Dr. Mousavi. I have gone to other consultations with other physicians and did not get this level of care before. He went over my entire medical history, bloodwork and made sure I was at my best before my procedure. He also gave me his cell phone number and checked up on me after to make sure I was doing well! His staff were thorough and professional and made sure my follow up was booked. Thank you again Concord!
-S.M.
Excellent service! You will not be disappointed! When I first contacted Concord, Steven was very quick to respond. He went out of his way to accommodate my schedule and was able to secure an appointment on my desired date.
Upon first impressions, the clinic is clean, comfortable and friendly.
Dr. Mousavi is incredibly knowledgeable but also down-to-earth, funny and has great bedside manner. He completed a very thorough review of my history and provided education on hair loss along several treatment options.
I went with PRP and was pleasantly surprised with how easy and painless it was. I also left with recommendations for supplements and a topical medication to further enhance my results.
Unlike many hair loss clinics in California, their prices are extremely competitive and reasonable for the services provided.
Overall I've been very pleased and would highly recommend Concord.
– Kristen
I sat in on a consultation with Dr. Mousavi. Dr. Mousavi was very insightful, thorough, and experienced. He has impeccable bedside manner and pays critical attention to detail. He not only knows what is best for your hair, but what is best for your body as he also specializes in wellness. He will definitely take great care of you. The medical staff is amazing.
– Ashley
The staff here is very professional.
In the consultation alone I feel like I left with a greater understanding of the science of hair growth than the hours of research that I did online. Dr. Mousavi even correctly predicted the hair patterns of all the male relatives in my family, scary, but he sincerely knows his trade very well.
The staff here is honest and straightforward and pay that extra attention to detail that made me feel that I was being well taken care of, going through the process to look better and ultimately feel better is well worth it.
– Andre
Dr. Mousavi is a very attentive and detailed physician. When my boyfriend went to him, he knew exactly how to help him. It's clear that he wants to take good care of his patients! We trust his medical advice and his expertise. One of the most skilled in his field!
– Gabby
After a consultation with another hair restoration place I was left very disappointed. I didn't get to meet with the Dr. and felt like their main goal was to sell me their overpriced laser cap. When I had my consultation at Concord It was such a great experience. I not only got to meet with Dr. Mousavi but he also spent a lot of time with me explaining my options and answering all of my questions. The staff was also very friendly and helpful. I left knowing that this was definitely the right place for me!
– Sandi
Spoke with Dr.Mousavi today and he was highly educated in his field of work. Out of all the Dr's I spoke with he made me feel the most comfortable to trust my scalp with lol. Going to get my hair transplant with him in San Diego soon as I get my gut issues in order.
– Nims
When I decided to have hair restoration, I spoke with 4 providers. I had the most confidence in Concord. They explained clearly what to expect the day of. And, most importantly, the days, weeks, months after. I will say that the final hour of the restoration went a wee beyond what I had understood it to be. Lot of discomfort. But, I was able to drive myself home and sleep somewhat normally. Within 4 months, the positive results could be seen. Within 6 months, very good. And, as they promised, by the 10th month, the Before vs After improvement has become very, very impressive.
-Adam
Before I did my FUE procedure at Concord, I was really subconscious about my hair. I wore a hat everywhere. I knew nothing about natural hair restoration. I started doing some research and looking up local clinics that offer hair restoration. I am not the type of person that makes decisions based off of other peoples reviews or what different blogs have to say. I want to see results. I chose three clinics in San Diego that offer hair transplant procedures that had really nice before and after pictures on their website. I went in for three consultations with the three different clinics and I have to say hands down the team at Concord showed the most compassion and care. Dr. Mousavi's approach to hair loss and hair restoration stood out to me the most from the other clinics I visited. His procedure team was wonderful. I felt very comfortable and in good hands. Steve, the office manager there is the utmost professional. He was always swift in replying to my calls, texts/emails and made the entire sign up process simple and straightforward. It has been 10 months since my procedure and I am so happy with my results. Pictures coming soon! I highly recommend going with the team at Concord.
– Diana
During my procedure, Dr. Ben diagnosed me with a sinus infection and told me if it persisted to follow up with him within a few days after my visit. These guys are the whole package. Very happy with this team.
– Brent
I highly recommend Concord hair restoration.
Dr. Mousavi and his staff were so friendly and accommodating throughout my whole experience.
Dr. Mousavi took his time answer all my questions and to make sure I understood my treatment. The results were exceptional.
I can highly recommend him to anyone in need of his services.
-Ashling
I had my original restoration procedure done with Concord Hair restoration one year ago wit a great result.
Yesterday (4-7-2022) I went in for a follow up for a touchup procedure.
I cannot express my gratitude to Dr. Ben, STEVE and the entire staff, including and especially the nurses who are unbelievably caring and compassionate. The entire Concord hair restoration clinic is first class.
Dr. Steve Scribner
Dr. M. and his team did a fantastic job. Within 30days hair was growing and has come in really well.
The results are almost perfectly natural to the extent that my facial plastic surgeon did not initially even recognize that I'd had hair restoration transplants.
—Tara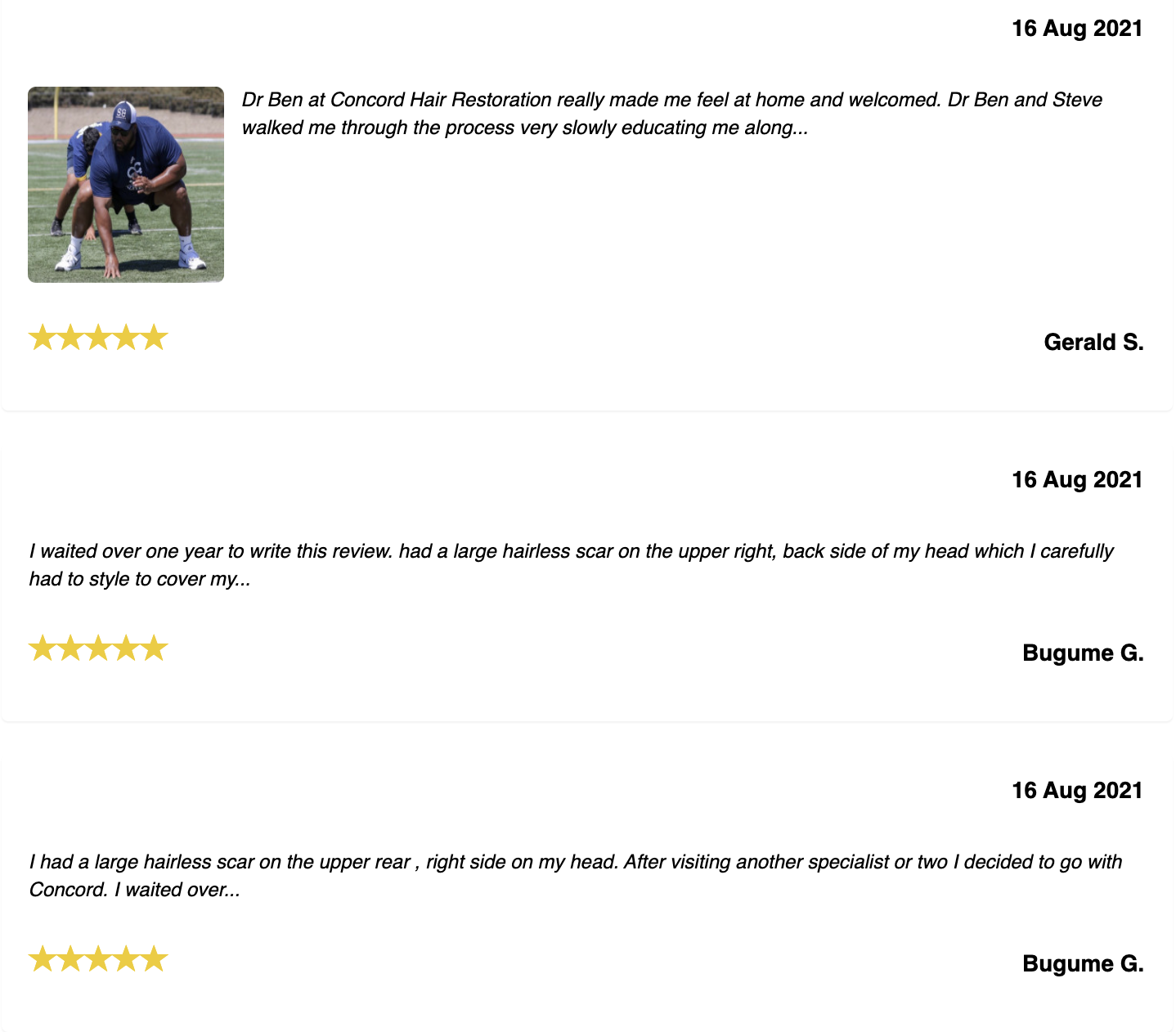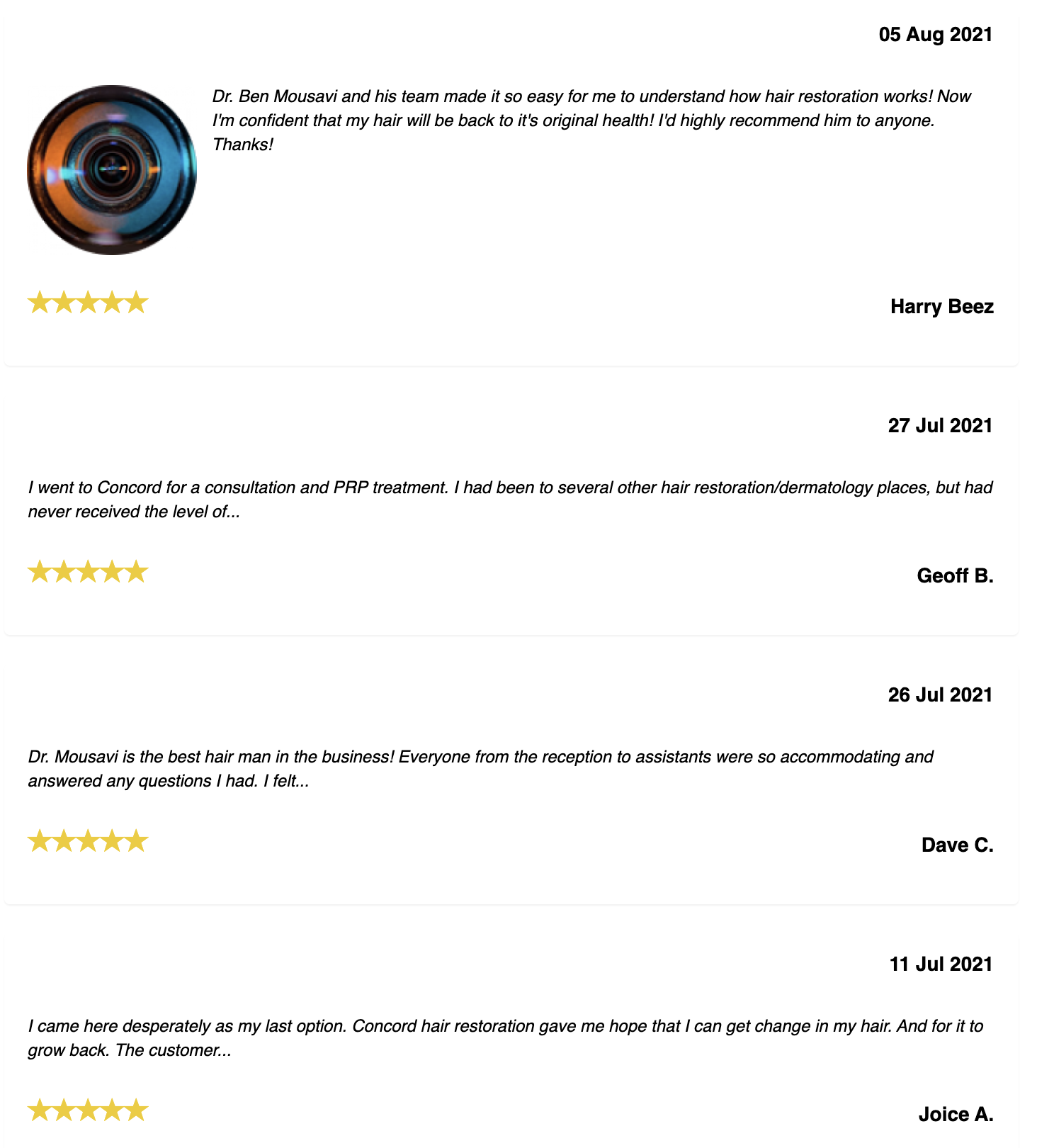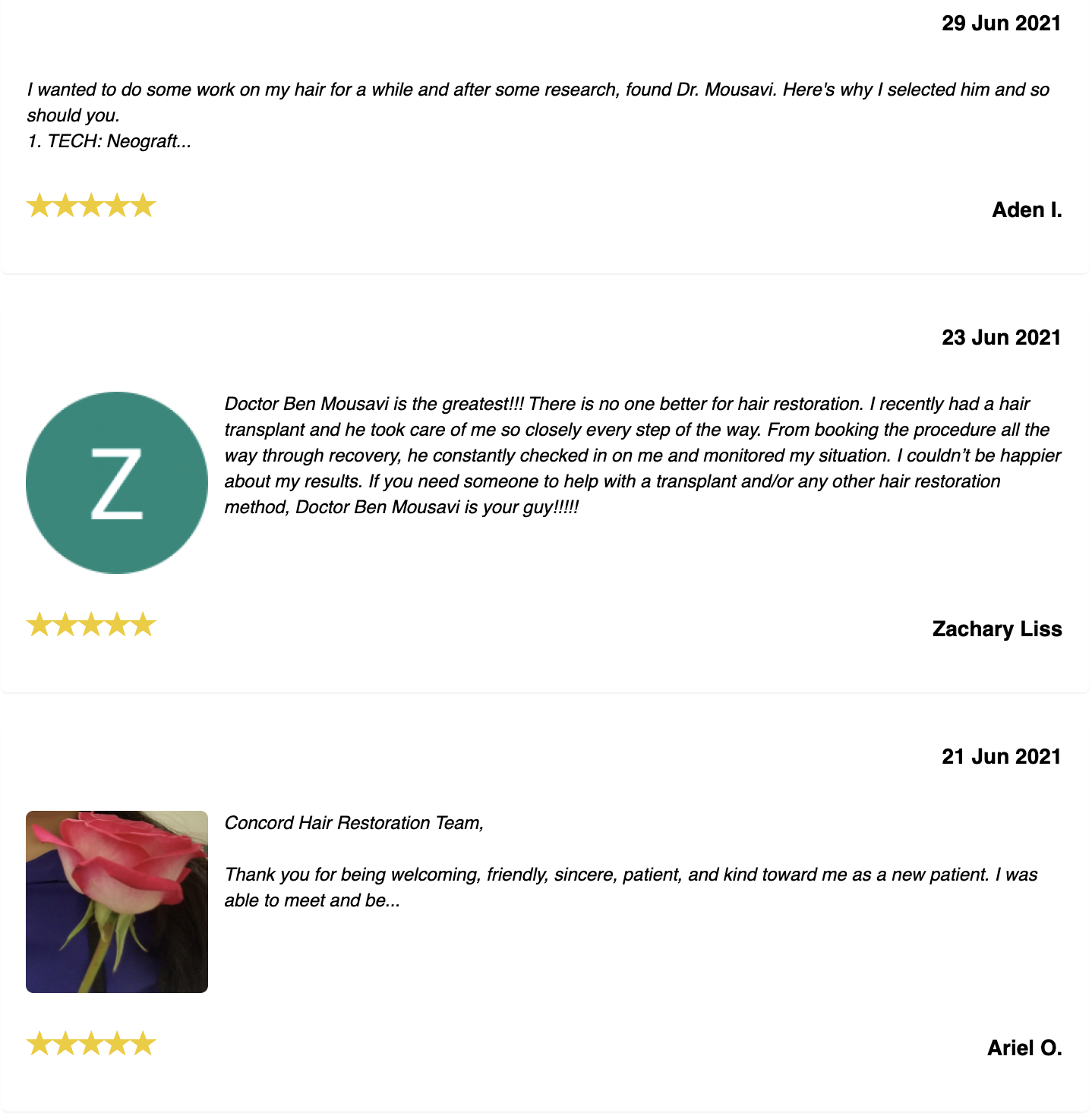 Contact Us Today to Schedule Your Consultation