Men's African American Hair Transplant
Men's Afro-American Hair Transplant Services
Dr. Ben Mousavi MD, ABHRS, a highly professional and devoted hair transplant physician is a well-renowned physician, is specialized in African American hair transplants. He is professional in both the FUE and FUT (Strip) methods. His main regime of specialty is in Ethnic hair Follicular Unit Extraction (FUE). Dr. Mousavi is a diplomat of the American Board of Hair Restoration Surgery (ABHRS) and endorsed by the International Alliance of Hair Surgeons (IAHRS) and the American Hair Loss Council.
Dr. Mousavi is highly experienced in Afro-American Men's hair transplant and he deals with each of his clients with great care. While other physicians mostly do not perform FUE on Afro-Americans, Dr. Mousavi has been performing the same technique in ethnic patients successfully for years. During the years of his keen experience and practice, he has devised such techniques and methods which result in extracting a better graft and ultimately a better hair transplant.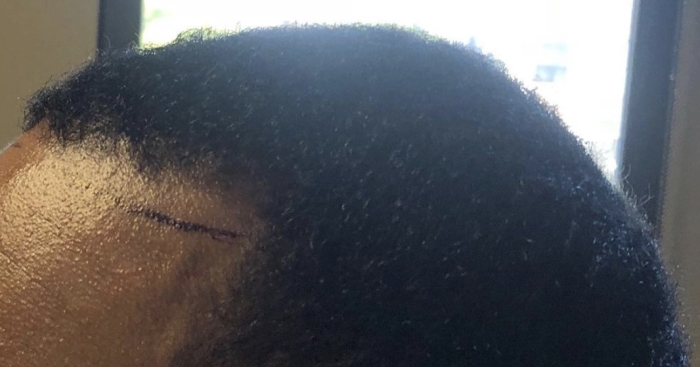 Why is FUE in Afro-Americans more Challenging than Caucasian hair FUE?
The simple and logical answer to it is that ethnic hairs are curly and it is the very thing to which it is not easy to deal with for regular hair transplant surgeons, while Dr. Mousavi deals with such types of cases on daily basis. That's why Dr. Mousavi is a better and safer choice.
He has performed so many cases of Afro-American FUE hair transplants with superb results. Surgery in common and hair transplant especially is the art of hand practice and muscle memory. Dr. Mousavi has opted for unique ways to make the graft come out fully intact as is shown in the picture below. Here, grafts are taken by the FUE technique. It can be seen clearly that how curly the grafts are and even then, they are fully intact with two to three hair follicles.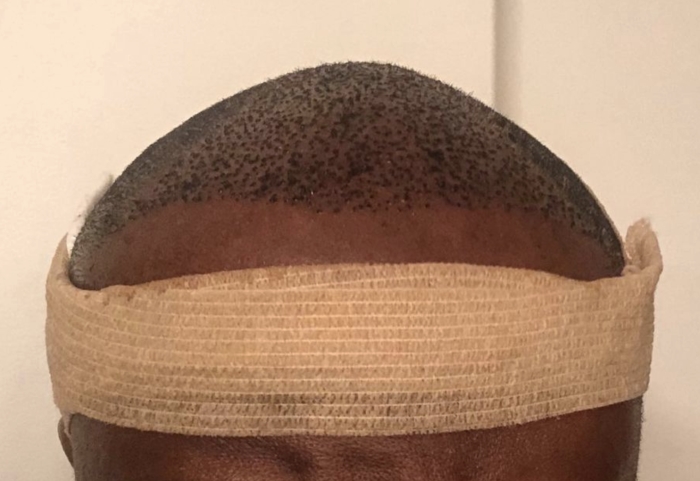 Why experience in curly hair is much important when performing FUT (Strip ) procedure?
Since Afro-Americans have curved hairs, Dr. Mousavi has managed his techniques, e.g., degree of curvature and curve the needle while performing punch and while the needle goes through the skin.
In short, Dr. Mousavi has more experience and more techniques than others which ensures efficiency along with great results.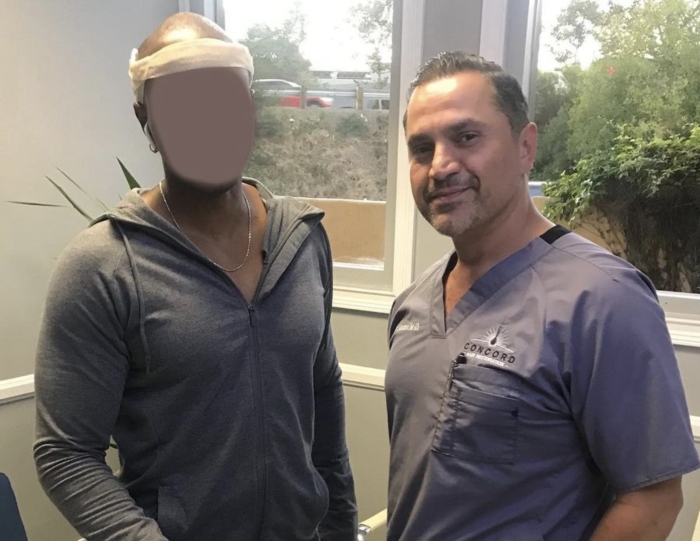 Why does Dr. Mousavi perform one case per Day?
Dealing with only one case per day is the most important policy of Dr. Mousavi, as it is necessary for being focused on performing Afro-Americans' curly hair transplant. The day which is yours is none others. The whole team is focused on you. There is no other surgery on that day making the doctor or other staff in hurry. This policy is necessary because ethnic hair transplant demands far more attention than other hair transplants.