The concept of long recovery times and scarring for effective hair loss treatment is a myth. Some patients have found that certain treatments come with an almost zero-time frame between sessions, while others report much higher success rates after just one visit from our hair clinic in San Diego or Los Angeles.
We are living in a time where technology has advanced to the point that we can have hair restoration without any scarring, pain or long recovery periods. Dr. Ben Mousavi is an expert on this new developing treatment called FUE (Follicular Unit Extraction). His impressive medical background, history, passion, and beautiful natural-looking work with follicles make him a sought-after one-of-kind hair transplant specialist in Southern Califonia! In fact, he's in such high demand, he has now two clinics to better serve his clients. His frequent commutes to – one in San Diego and the other in Los Angeles.
What is a Hair Transplant?
Hair Transplanting is a process that takes hair from other areas of your body and "transplants" it to the scalp area. This has been seen as an excellent way for those who suffer from thinning or balding patterns because they can restore their heads back into a more youthful appearance! Unfortunately, this procedure in the past once had an awful reputation, remember hearing about "hair plugs"? Those horrible days are over; they required unsightly scarring and a long recovery time.
The good news? There are now new options available called FUE hair transplants.
FUE Hair Transplants are the latest and the Greatest
The Fue hair restoration method is a highly precise procedure that leaves no room for infection or scarring. Most people can resume their life immediately following the surgery, and there's usually little redness in this area of skin as well! With natural-looking results, a FUE hair transplant is the new "go-to" hair restoration procedure that has everyone talking! Great for all hair types and both men and women are enjoying the benefits!
To answer your question – FUE is the hair loss treatment that WORKS with minimal healing time!
FUE Hair Transplants Only Use Your OWN Hair
You only use your own hair for the surgery. And no – nobody can use your hair for their surgery. The FUE method is a bit more gentle than traditional surgery because it doesn't involve cutting away pieces of skin and then removing the rest from your head. Instead, individual hairs are removed with the help of an instrument called NeoGraft. The individual hair can be inserted into small incisions made in order to plant each piece just beneath where that person wants their new hair to grow! FUE hair transplants are also not limited to one's scalp, you can fill in bald spots in your beard or mustache with facial FUE hair transplants. And ladies, let me tell you – if you've overplucked your eyebrows in the past and they won't grow back – you can transplant hair to your eyebrows bald spots or make them fuller to enhance your eyebrows; called eyebrow hair transplants.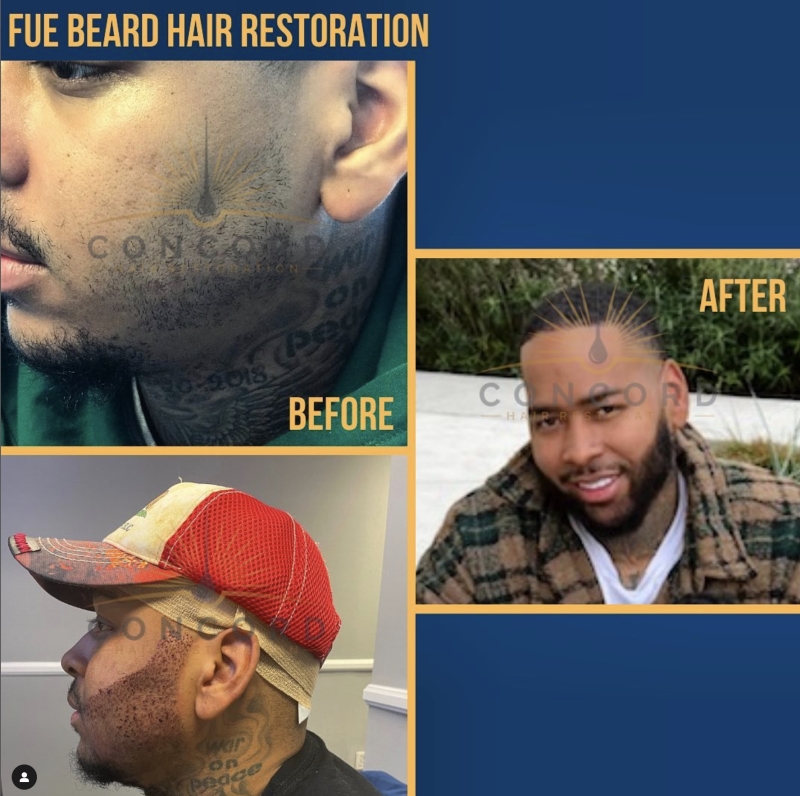 FUE Hair Transplants Give Natural-Looking Results!
You can have the full head of hair that you want, without dealing with long recovery times or other negatives associated with traditional treatments. A specialist in FUE will help make your journey easy and quick while still providing great results!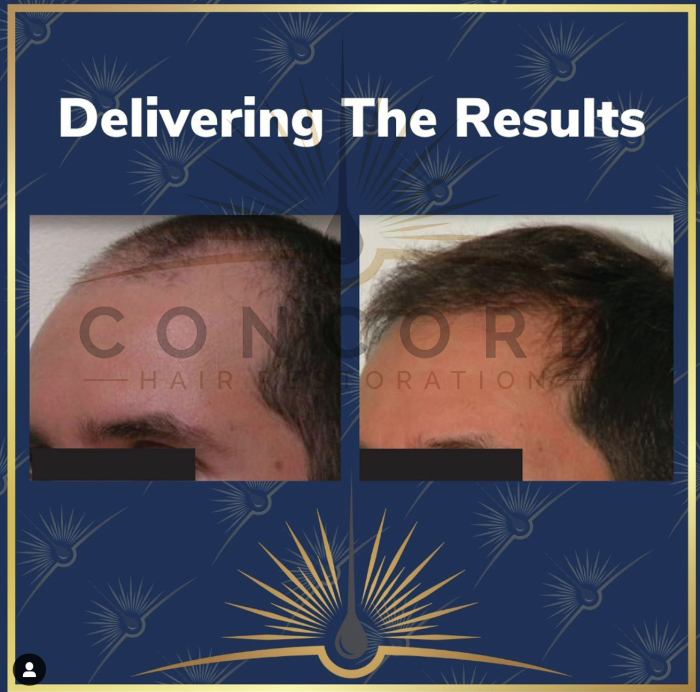 Get a FREE Hair Transplant Consultation Today!
Concord Hair Restoration offers free consultations to ensure that your hair restoration procedure is done with care and precision.

When it comes down to choosing which hair restoration clinic will provide quality service throughout every step in the process – don't hesitate any longer; call us today so we can talk about how Concord Hair Restoration's customer-focused team specializes in bringing life back into thinning hair like never before:
Contact us, call now:
San Diego Office
7801 Mission Center Ct.
Suite #105
San Diego, CA 92108
(619) 905-HAIR (4247)
Los Angeles Office
16661 Ventura Blvd.
Suite #824
Encino, CA 91436
(818) 377-5000